We have something special for you. The music of "Faithful Kate" will stream for the very first time this July 4th at 11 am. Ron, John & Lee are back with a new name and a new single SIPPIN GLASS; keeping the family together; rockin' stronger than ever. Why the name change? "It felt like the right time, our original name "Rockin Horse" was never really planned, we needed something back in the 90's for our first gig and went with it." ~ Lee
Faithful Kate have put together a group of songs that represents their musical journey together since 1992. The band's debut single from their album Classic is a Piedmont blues styled cooker called Sippin' Glass. So who is Faithful Kate? 
Photo by Maggie Fernandez
The foundation for
Faithful Kate
was laid on New Year's Eve 1979 in Westfield Massachusetts when a friend asked Lee Brinn if he'd like to sing for his newly formed rock band. Lee had just moved to New England that winter and jumped at the chance. Later that week, Lee met with drummer Andy and bass player John Houlihan for a short introduction jam. Lee remembers being shocked that he actually got the gig and being scared to death about it. "These guys were an actual band, it was a big deal to me" Later that year guitarist Jeff Gilmer joined the group, and they named themselves
Endover
.
They played school dances and house parties while discovering a shared appreciation for bands like; Grand Funk Railroad, Aerosmith, Deep Purple, Def Leppard, Rush, and Steve Miller. John and Lee also discovered their shared interest in songwriting, together they penned the band's first song "Man From Zubek". It was a simple, catchy rocker that caught on well with their highschool fans. Lee and John went on to become close friends, often jamming without the other band members, experimenting with new original songs and ways to blend the guitar and bass. This connection became the bedrock for their collaborative musical journey together. Lee and John formed the beginnings Rockin Horse in 1990 with drummer Bobby Ralston and guitar player/harmony singer Stephen Wood.
---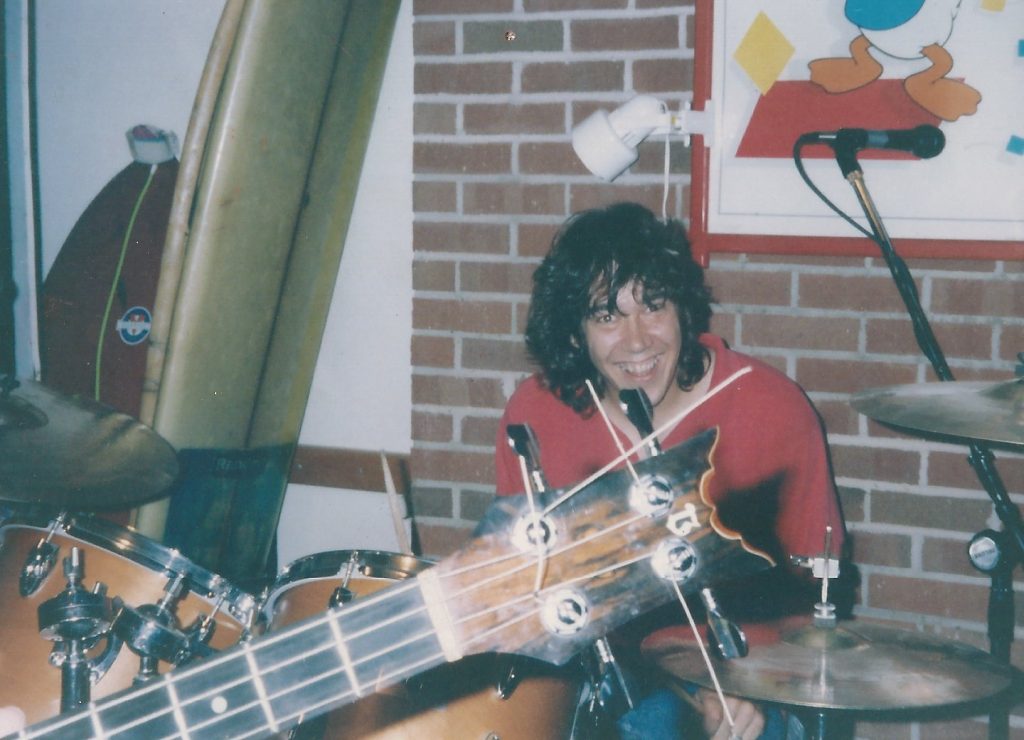 In 1991 Ron Thornburgh was asked to set in for a night of drumming and as they say "It was magic". "Lee remembers his first impression of the new guy being "comfortable like my favorite guitar". "It was like he had always been our drummer, He was fun, good, and fell right into the same funky rhythm and blues groove that we liked". The guys went straight to writing original songs together, focusing on becoming shepherds of the "Rock-N-Roll Soul" sound with songs entitled Ola May Brown, For the Sake of a Song, and Step Long. Lee remembers when Steve broke the news about leaving. "The soulful harmony that Steve brought to our music was sorely missed when he left in 1992.
---
We adjusted our writing to include less harmony, a change I was never really happy about but we still had a blast together and kept gigging". Rockin Horse played as a trio along the East Coast in bars, occasionally scoring larger shows like Norfolk Harborfest and as a regular opening act for Sea of Souls. Lee says: "Our favorite gigs were always relaxed local spots like The Rebel in Washington NC. This place is legendary, It's so fun we'd play for free." The band put their music on hold in 1994 to pursue individual careers and spend time with their families. In late 2000 they reformed under the name Myers Corner with additional musicians; guitar player/singer Joe Mizal and Percussionist Little John, for a brief but fulfilling two years of great songwriting.
They played just two live performances featuring violinist Charlie Austin and guitarist Keith Lynch's soloing talents. In 2002 John moved his family back to Western Massachusetts to further a career in sales and the band was once more on vacation.
---
In 2018 there was a spark. A serendipitous career move by John brought him and his family back to Virginia. The three gathered in Lee's home gym for an informal jam session. Lee ~ "We played and laughed until our backs and guts were sore, more fun than I could have ever imagined" Lee wrote Sippin Glass, the first of three songs for the band in January of 2018 to be featured on their first ever official release this July 4th 2019.
Lee ~ "I always felt like we had unfinished business because we never recorded an album, it was a thorn in me, so I placed that at the top of my priority list for this time together. We're stoked to be making music together again and finally completing our first album as Faithful Kate. We love playing together."
Vocals /Guitars: Lee Brinn
Vocals /Bass: John Houlihan
Percussion: Ron Thornburg

Sippin Glass is the first single being released by FusionBuzz Music Media Label recording studio in Chesapeake Virginia. It will stream on iTunes, Spotify, Apple Music, Pandora, Amazon, Google Play, Tidal, iHeartRadio, YouTube, Deezer and other stores & streaming services.