Like any major American city, Austin is home to several ways of life. There's the opportunist; who has seen the recent boom of mega corporations migrating to Texas' capitol and, with degree in tow, seeks a long-term career with one of the giants of the consumer world. There are the veterans; the longtime locals of Austin who were there when it was truly "weird", and who mourn days long gone as the city becomes slowly gentrified by the opportunists. And then there are the dreamers. These are the men and women, often young and wide-eyed, who see Austin as an alternative route to success in pursuit of the arts; one that embraces individuality and hard work over connections and luck.
In the brief time that I've spent here, I have seen all kinds of folks who live in this ballooning city but the three I listed are what have stuck out to me the most. Naturally, the dreamer resonates closest to me, as I am one of them. No matter where you look or wherever you listen, you will find one of these dreamers around every corner, talking about tiring commercial shoots or playing all night with their struggling garage band. Where Austin sets itself apart is that the passion of the arts itself is celebrated. When a film is made in Los Angeles, or an album is recorded in New York, this isn't anything special outside of the few songs that proudly declare the fact. Maybe it's because of a Texan pride that's impossible to ignore from the moment one crosses state lines, but there is something still electrifying about an Austin-born production. More popular filmmakers and musicians are loyal to this city than any other I can think of.
It Started Here
Robert Rodriguez proudly shoots most of his films exclusively in or nearby Austin. Richard Linklater's baby is the Austin Film Society, a theater that specializes in screening classic and new arthouse films, usually in pristine print meant to be presented for the general public (with perks for members). Matthew McConaughey recently became an officially recognized professor for the University of Texas Film Department. Willie Nelson un-retired from music after being energized by Austin's spirit, and has made the city his home since 1972 and still regularly performs here. When local underground sensation Daniel Johnston passed away a few months ago, there was a collective grieving felt throughout the whole city; as if Austin itself felt some of its individuality slip away. 
Even as the city becomes slowly enveloped by outsiders pursuing promising careers in the tech world, the heart of the individual artist still beats loud and strong. On any given night out on Dirty 6th Street, the bustling, historically recognized entertainment district located in the heart of downtown Austin, you can find dozens of live acts in bars and taverns up and down the block singing everything from twangy lamentations of cheating spouses, to piano-infused covers of Tom Petty's greatest hits. All or most of these acts were born and raised somewhere in Texas, and they'll make sure you know it too.
Independent Filmmaking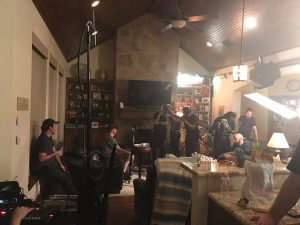 When it comes to the independent filmmaking scene, budgets don't slow down any imaginations here. In the short time I've spent here, I have already worked on two science-fiction productions with some impressive (considering the budget size) production values. More often than not, the people behind these productions are lifelong fans of these niche genres, and Austin seems to be a breeding ground for nerds of all kinds to gather. And what better way to celebrate that love than by adding to the canon of those often looked down upon genres?
Of course, every one of these artists knows the struggle. Tight budgets, crazy cost of living, hellish traffic,
sudden gentrification. But whereas the veterans curse the influx of opportunists to their dying breath,
and the opportunists try to reshape Austin into another milquetoast metropolis; the dreamers are the
ones keeping the weird spirit alive. Whether it's through their voices or their vision, these are the people who will continue to truck onward undeterred by what Austin once was and what it might become. And I'm excited to be here just to see what happens next.
Images:
Content Image: Behind the Scenes of "The 82 Tiles", an upcoming dramatic short film written and directed by Taylor Zachary Butler. Photo by Raheem Johnson, permission to use from Taylor Zachary Butler.
Cover Image: Behind the scenes of the sci-fi 48-Hour Film Project submission "Little Brother", written and directed by Justin R. Durban. Photo and permission obtained from Justin R. Durban.