Larry Berwald's "sweet molasses"  slide guitar will be featured on the second single from the Faithful Kate's debut album CLASSIC. The trio released their first track "Sippin Glass" on the 4th of July 2019 and say they're blessed to have Larry's chops on the new tracks scheduled for release December 2021.
Larry Berwald featured on FAITHFUL KATE debut album December 2021. Larry Berwald grew up in the citrus belt of Central Florida and was forever affected along with thousands of adolescents by the Beatles' appearance on The Ed Sullivan show in 1964. High School Top 40 bands were the incubators of eventual serious musicianship, and college liberal arts studies just served to delay the inevitable.  The 70's were marked by serious pursuit of professional musicianship which culminated in a three year stint as lead guitarist with Wet Willie, a Southern Rock Icon, and another three years as lead guitarist for Jimmy Hall.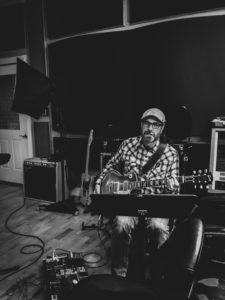 Several albums on Epic records documented Larry's guitar work including the Billboard top 20 tunes "Street Corner Serenade" and "Weekend".  In the nineties and 2000s his musical endeavors have taken him into an exploration of the solo acoustic guitar and guitar family instruments including the steel bodied resonator guitar, lap steel and the harp guitar. Larry's debut CD "Reflect On" was released by Cimirron/Rainbird Records in June of 2002.  Larry enjoys playing as a sideman with many area players (see JulieClark.net, Sonya lorelle.com, mikeaikenmusic.com, bobbyblackhat.com.  In the 2000s Larry co-wrote, played on and produced several critically acclaimed albums for Bobby Blackhat Band.   In the 20teens Larry joined Seth Stainback and Roosterfoot who in 2015 won Veer Magazine's first place for Album of the Year and Best Rock Band, and second place for song of the year.
Larry's influences are an A list of the best – Duane Allman, Ry Cooder, Derek Trucks and the jazzy rock players like Larry Carlton, Robben Ford.  Early Blues rock like Clapton, Hendrix and Jeff Beck
Larry Berwald on FAITHFUL KATE debut album December 2021 on iTunes, Spotify, Apple Music, Pandora, Amazon, Google Play, Tidal, iHeartRadio, YouTube, Deezer and other stores & streaming services. Available in select record stores on CD & Vinyl.