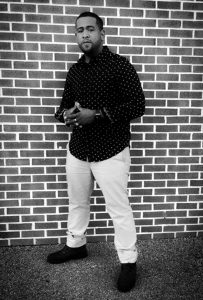 Keyboardist McCoy Peterson in the recording studio tonight! Soooooo Stoked to have this exciting and gifted musician on our first FusionBuzz music project. Thanks for your generous and amazing contribution McCoy!  
McCoy Peterson is a local Hampton Roads musician who began his career at age 8 playing drums for New Galilee Baptist Church in Chesapeake, VA. At the age of 13 he began playing the keyboard and by 16 was teaching musical workshops and playing for national recording artist Peggy Britt and the Philharmonic. He later became the musical director for tv producer, radio personality, former manager of legendary R&B female group SWV and current manager of female R&B group 702's Cory Taylor' community choir, Voices of Praise. McCoy is currently the minister of music for Garden of Prayer #3 and Faith Mission Outreach Center both in Norfolk, VA. "I have been able to learn from some of the best in gospel and R&B and look forward to the future as my children's musical careers begin taking off" ~ McCoy Peterson
McCoy's repertoire ranges from gospel, jazz, and R&B, to classical, rock, and blues.
Thrilled to have him on this project! 
McCoy's keyboard sessions mark the first for two singles being released from FusionBuzz recording studio. The recording studio is currently producing 2 singles to begin streaming early summer 2019. Platforms include iTunes, Spotify, Apple Music, Pandora, Amazon, Google Play, Tidal, iHeartRadio, YouTube, Deezer and other stores & streaming services.
~ FusionBuzz Multimedia