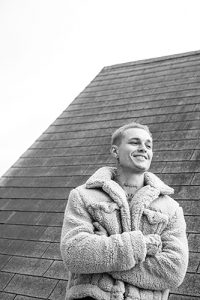 Andrew Neal – A 28 year old singer/songwriter born and raised on Virginia's southern coast. "I am heavily influenced by the trials and tribulations of my own life. Music is more than just a love for me, it's an obsession and a way to relate to everyone around me . When it all comes down to it , we all just want our spot in the world. It just so happens that I want one that's a little bigger " ~ Andrew
Andrew is quite amazing to work with… He is a singer, songwriter, musician, and infectiously dynamic entertainer based in Los Angeles California. When he sings, he is the art. Andrew's repertoire ranges from singer/songwriter, blues and R&B to progressive rock. Having Andrew on this project is dream come true for us!
Andrew Neal, in the studio! He will be featured on Cinderella; an upcoming pop/contemporary R&B track written by Lee Brinn, produced at FusionBuzz recording studio. Andrew is unquestionably the voice that we'd hoped for; coming from LA to perform on this track is absolutely a gift. His soulful, brandy sweet delivery is tailor made for Cinderella, one of seven singles streaming in summer 2019. Platforms include iTunes, Spotify, Apple Music, Pandora, Amazon, Google Play, Tidal, iHeartRadio, YouTube, Deezer and other stores & streaming services.  Please follow us on Facebook and Instagram for future buzz on Andrew's release and other releases in 2019.